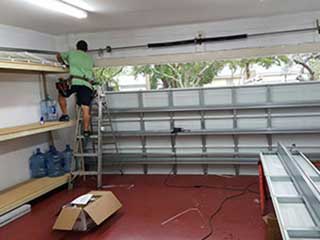 Our team at Garage Door Repair Sherman Oaks provides a lot of local homeowners with excellent maintenance services that make sure their automatic overhead door is able to live up to its full potential. We have been taking care of systems of this type of a very long time, and there are a lot of dangerous accidents that we can prevent with this service.
Preemptive Action Ensures Safety
Having your garage door inspected by professional technicians on a regular basis is an excellent way to keep all of its components in a good condition. Not only that, it's a great way to make sure your system remains safe to use as well.
What We'll Do
Our team will check the condition of the springs, the tracks and every other piece of hardware involved in the door's operation. Any damage that we find will be addressed immediately, and will, therefore, be effectively "nipped in the bud". Examining your door is only the start of our service. We'll also lubricate and adjust the springs to keep their performance optimal and smooth, and we'll do the same for the rollers and cables as well. Another main focus of our maintenance service is the safety sensors. We'll test their performance and make sure they are fully capable of detecting an obstacle. If they've become misaligned, we'll reposition them on the spot.
The Main Benefits
As we mentioned earlier, regular maintenance can offer you several benefits. For once, your door will be much safer to use, as any lurking problem will be dealt with well in advance. Furthermore, by preventing a lot of accidents from occurring, the wear and tear your system suffers from will be reduced, and its longevity will, therefore, be increased.
Schedule an Appointment
Our experts at Garage Door Repair Sherman Oaks will work around your schedule and fit themselves to the time most convenient for you. A lot of problems can be avoided by simply having your system routinely maintained. A lot of money can be saved that way too, as serious repairs that result from a malfunction tend to be a lot more expensive. Contact us today for more information.
Our team can also take care of:
Belt Drive Garage Door Openers
Garage Door Troubleshooting Services
Garage Door Cable Replacement
Garage Door Cable & Track Repairs